HE storyteller whose life story was as interesting  as his fiction, Jack London  was born on this day in 1876.
Despite having a troubled childhood wrapped within layers of personal and economic problems, the creator of
White Fang
and
The Call of the  Wild
rose above his situation and didn't allow his condition define his destiny. After poverty made him quit school at an early age, London  took up different jobs to sustain himself before joining the Klondike Gold Rush to make a fortune. Though he didn't strike gold, he did make a fortune through his writings. A classic example of
rags-to-riches story,
London is said to be one of the first writers to become a millionaire through his writings.
From exploring the harshest places on Earth to being an oyster pirate to covering the Russo-Japanese war, the creator of
The Call of the Wild
has had a wild and adventurous life.
London's is a terrific story
of how the human spirit is capable of beating the odds to shine in all its glory and splendour.
---
Jack London's Credo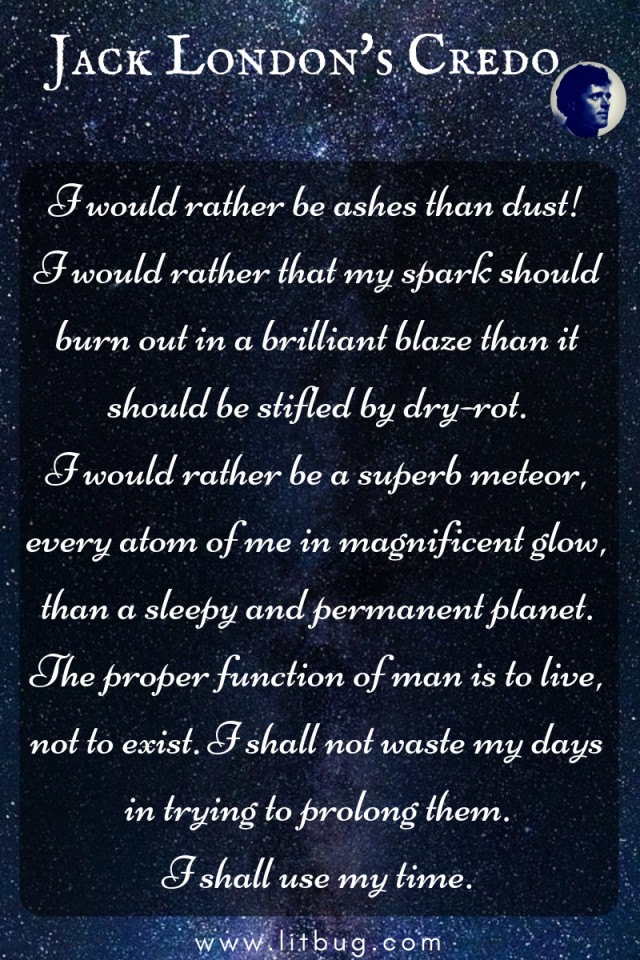 Source : Jack London's Tales of Adventure, ed. Irving Shepard, Introduction, (1956)
.
[Text of the Credo]
I would rather be ashes than dust!
I would rather that my spark should burn out in a brilliant blaze
 than it should be stifled by dry-rot.
I would rather be a superb meteor, every atom of me in magnificent glow,
than a sleepy and permanent planet.
The proper function of man is to live, not to exist.
I shall not waste my days in trying to prolong them.
I shall use my time.
---
      Though there is a
debate
around the source of the parts of this creed, it sure does capture the glimpse of that thrilling spirit that is Jack London.
His story
The Story of Keesh
has been selected as the story for the week to mark the birthday of this terrific storyteller.  You can read the story
here
.
---