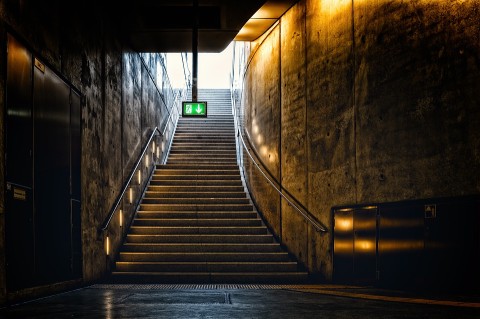 I See You Never is a short story by Ray Bradbury in which he engages with the themes of selfhood, belonging, and migration. The story was originally published on November 8, 1947, in The New Yorker. Bradbury usually writes science fiction or fantasy but this story is neither of those it's rather a vignette about a Mexican immigrant whose name is Mr. Ramirez who is forced to leave the United States after his visa gets expired. The author describes the joys of living his life in Los Angeles and his sorrows about having to leave. This story is included in the collection "The Golden Apples of the Sun" (1953).
I See You Never | Summary
The story begins with a knock on the door of the kitchen. Mrs. O'Brian opened the door and saw Mr. Ramirez along with two police officers. Mr. Ramirez, her best tenant, stood in between them. Mrs. O'Brian greeted him but he was not able to speak. 
Ramirez had lived more than two years at the house after moving from Mexico to San Diego and finally to Los Angeles. He lived in a clean little room, with glossy blue linoleum, and pictures and calendars on the flowered walls. He had made airplane parts in a factory ever since the war. He had made good money at the beginning which he saved and got drunk once a week which, according to Mrs. O'Brian, was well deserved. Meanwhile, Mrs. Brian was making pies in the kitchen. The two police officers smelled the aroma and leaned forward. Mrs. O'Brian saw Mr. Ramirez staring him at his feet and asked him what was wrong. Mr. Ramirez saw the kitchen table and Mr. O'Brian's three grown sons sitting at the table eating and conversing while her two young daughters stared at the police officers in front of them. 
Ramirez said that he has lived here for thirty months and the police officer said that he had outstayed his visa by six months. Mr. Ramirez starts remembering the things he had bought for himself after moving here, a radio and a wristwatch. He had also bought some bright clothes along with some jewelry for his lady friends. He had seen picture shows five nights a week once. He had ridden streetcars. Besides everything, he had gone to large restaurants and eaten a many course dinner, he also saw the opera and the theatre. He had bought a car, which was taken from him after he forgot to pay for it.  
Ramirez informed Mrs. O'Brian that he had come to take his things and go back to his country i.e., Lagos, a little town north of Mexico City. Returning her the keys, he said that he had already packed his bags and was ready to go. Mrs. O'Brian saw that he had a suitcase with him. He took the scene once again and also looked at the apartment next door, taking in the outside scenery. Mrs. O'Brian said that he was a good tenant. One of her sons called her to eat dinner but she just shook her head at him and turned back to Mr. Ramirez. She remembered her visit to a Mexican border town with hot days, endless crickets, and canal tanks running out of water. She remembered the horses and rabbits. She remembered the whole scenery that was present in that town. It had mountains and beaches but there was no sign of cars or buildings. 
She offered her condolences to Mr. Ramirez. He said that he didn't want to return because he liked this place. He also had work here. Mrs. O'Brian wished that she could do something but she couldn't. At this, Mr. Ramirez started crying and took her hand in this while repeating the same sentence over and over again, "I see you never." He said goodbye to Mrs. O'Brian and repeated the phrase again. The policeman waited while Mr. Ramirez took his suitcase and went away; then they followed him. She went inside and shut the door. Sitting on a chair, she took her knife and fork and stared at the steak in front of her. One of her sons told her to eat fast and she, absent-minded, starts chewing. She put her knife and fork down and when her son asks, she says that she just realized that she will never be able to see Mr. Ramirez again.
I See You Never | Analysis
Taken from The Golden Apples of the Sun and Other Stories collection, The story is narrated in the third person and after reading the story the reader realizes that Bradbury may be exploring the themes of loss, freedom, connection, change, and authority. Mr. Ramirez, after moving to Los Angeles, forms a connection with Mrs. O'Brian as well as the environment of the city. He is an immigrant from Mexico and he seems to have outstayed his visa in the United States where he felt free and unshackled but the times seem to have been changed for him. For a short while, he seems to be living the 'American dream' but ultimately, he has to go back to his own country. The author, Ray Bradbury, depicts the impermanence of life here; like all things, his stay also comes to an end and he has to return from living the 'American dream' to his ordinary life in a small town in Mexico. 
There is also a sense of loss in the story. Mrs. O' Brian has lost a good tenant whereas Mr. Ramirez has lost the dream he so dearly wanted to hold to. He is being deported from the United States and he has the sense, rightfully so, that he won't be able to live his life this way again. Bradbury might be making the reader see the situation as being one where a man regardless of how they work or how obliging they are, legally is not necessarily secure in his environment. Authority figures can change their destiny and their path which seems to be the case with Mr. Ramirez. 
The symbolism in the story "I See You Never" is also important. The setting, for example, has Mr. Ramirez standing at the threshold of Mrs. O'Brian's home. Here, the author, Ray Bradbury, is using the threshold of the home as a metaphor for America. For the whole course of the narrative, Mr. Ramirez is seen standing outside the home, and not once does he cross it and enter. Mr. Ramirez's eyes are said to be "dark" which is again a representation of his mood throughout the story. He is in a "dark" and somber mood because he is being expelled from the United States, the place where he lived and worked. The story also mentions the fact that Mr. Ramirez slowly builds his life from scratch as he buys his first radio and from then onwards, he goes upwards from there, improving his life while also enjoying the worldly pleasures and now, he is being forced to leave the place where he has built a life for himself. Again, the author is suggesting here the fact that how free and empowered Mr. Ramirez feels while living in the United States. 
The end of the story finalizes the theme of loss that is seen constantly throughout the narrative. Not only does Mr. Ramirez tell Mrs. O'Brian that he will never see her again but the fact also dawns on Mrs. O'Brian that she will never see Mr. Ramirez again after this. This sense of loss is seen as important because it is through this that Bradbury shows the reader that the people of America also feel the same sense of loss when someone close to them is taken away from them in the name of law. Mr. Ramirez is a foreigner who may have been good for the country and the people. He has never been seen as causing trouble or hurting any person. In reality, this sense of loss is tragic and the reader is left thinking that the people, who are in authority, here the policemen, are unable to see what is good for their country. Not only this, but they also abuse their power to suppress the people who have little or no authority. 
I See You Never | About the Author- Ray Bradbury
Ray Douglas Bradbury (August 22, 1920 – June 5, 2012) was an American author and screenwriter. One of the most celebrated 20th-century American writers, he worked in a variety of modes, including fantasy, science fiction, horror, mystery, and realistic fiction. 
Bradbury was mainly known for his novel Fahrenheit 451 (1953) and his short-story collections The Martian Chronicles (1950) and The Illustrated Man (1951).[4] Most of his best-known work is speculative fiction, but he also worked in other genres, such as the coming of age novel Dandelion Wine (1957) and the fictionalized memoir Green Shadows, White Whale (1992). He also wrote and consulted on screenplays and television scripts, including Moby Dick and It Came from Outer Space. Many of his works were adapted into television and film productions as well as comic books.
The New York Times called Bradbury "the writer most responsible for bringing modern science fiction into the literary mainstream."